After much hard procrastination, I am happy to announce the release of version 3.0 of the Astrolabe Generator.
Get it HERE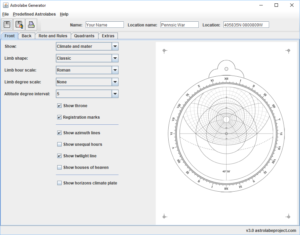 This version is a downloadable program that will run on Windows, Mac, and Linux.
This program requires Java to be installed on your computer. If it is not already installed you can get it here.
With java installed, installing the generator is just a matter of removing it from the zip file. Double-clicking on the file will run it.
This version has expanded features:
Save to folder or zip file
Print to EPS printer if available
Support for 90N to 90S
Expanded range of quadrants.